House Price Tracker
The House Price Tracker chart below summarises what's happening to house prices on a monthly basis. These fluctuations are sensitive to any number of sentiments, however currently the issues are confidence, the availability of credit, affordability and the credit crunch.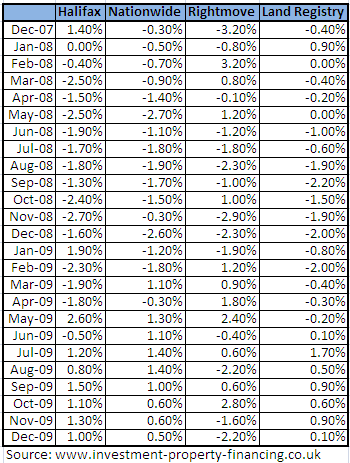 These statistics have come from The Lloyds Banking Group), Nationwide, The Land Registry and Rightmove and are prepared on a consistent basis.
The Halifax is the UK's largest mortgage lender and offers these figures on a seasonally adjusted basis. The Nationwide is a smaller competitor. And the differences between the Land Registry figures and Rightmoves is that the former are incredibly accurate historically whereas, Rightmove's figures represent the asking prices posted on around 80% of UK estate agents websites.
So when people say that prices are increasing or decreasing, it all depends on what is being reported and when. Rightmove's figures are speculative in that vendors may not get their asking prices but is a reflection of their ambition!
Whilst these figures may not necessarily be the one's you'd like to see, they don't actually earn you any profit. A profit or loss is only incurred once a property has been sold. So worrying about house prices really is a waste of time. It's what you do that counts. The time to take profits is when you'd like to take profits (and there are profits to take).
However, it may be that it's not the right time to sell. If you need to move for whatever reason, think about letting your property and renting elsewhere.



Return from House Price Tracker to House Prices