Westport Street
London E1 0RA
Westport Street is a short walk from Limehouse DLR Station and very conveniently located for both the city and Canary Wharf worker.Rental Coverage at 137%

Name: Westport Street, London E1 0RA
Total Units in Dev.: 14
No. of units on Offer: 13
Reservation Fee: £2000
Deposit: Simultaneous exchange and completion
Lease: 125 years
Gr. Rent/Service: TBC
Parking: No
Exchange Bonds: No
Split Receipts: No
Availability: 5th June 2008
Completion Date of Units on Offer: Complete
Stamp Duty: 1% & 3%
Assignable Contracts: TBC
Absolute Title: Yes
NHBC/Zurich: NHBC
Any Commercial Aspect: No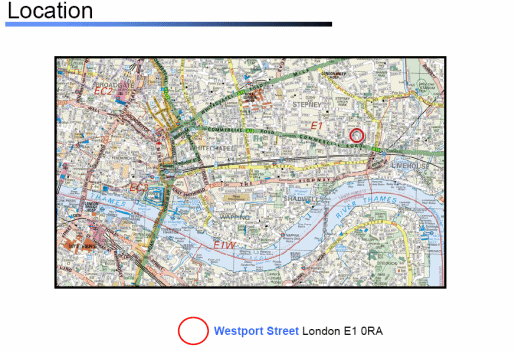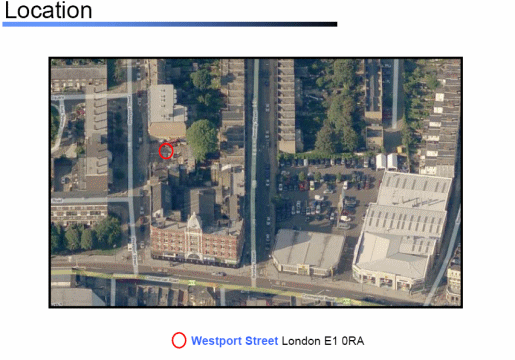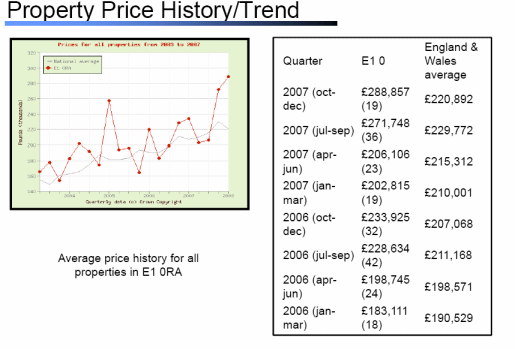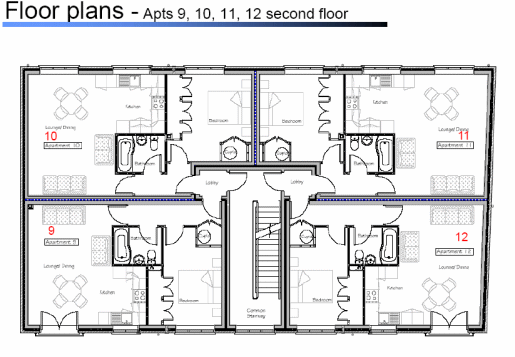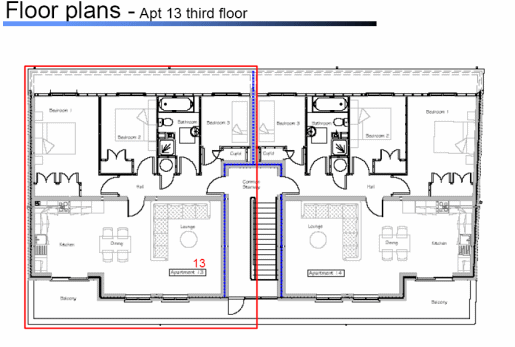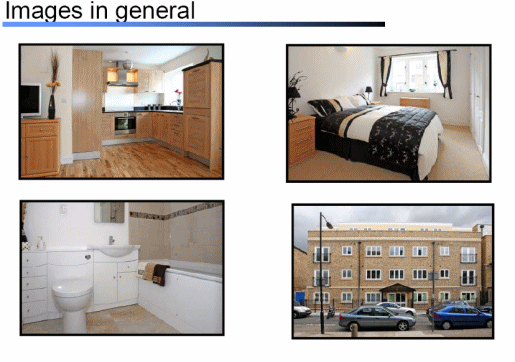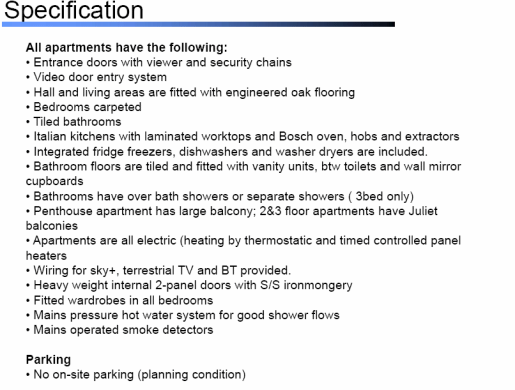 London can be geographically defined in a number of ways, although the situation was once even more ambiguous than it is now and open to periodic legal debate. At London's core is the small, ancient City of London which is commonly known as 'the City' or 'the Square Mile'. London's metropolitan area grew considerably during the Victorian era and again during the Interwar period, but expansion halted in the 1940s because of World War II and Green Belt legislation, and the area has been largely static since. Westport Street. The London region of England, also commonly known as Greater London, is the area administered by the Greater London Authority. The urban sprawl of the conurbation—or Greater London Urban Area—covers a roughly similar area, with a slightly larger population. Beyond this is the vast London commuter belt.Forty percent of Greater London is covered by the London postal district, within which 'LONDON' forms part of the postal address. The London telephone area code covers a larger area, similar in size to Greater London, although some outer districts are omitted and some places just outside are included. The area within the orbital M25 motorway is sometimes used to define the "London area" and the Greater London boundary has been aligned to it in places. Greater London is split for some purposes into Inner London and Outer London. Informally, the city is split into North, South, East, West and often also Central London. Westport Street.
The Metropolitan Police District, city-wide local government area and London transport area have varied over time, but broadly coincide with the Greater London boundary. The Romans may have marked the centre of Londinium with the London Stone, still visible on Cannon Street. The coordinates of the nominal centre of London (traditionally considered to be the original Eleanor Cross at Charing Cross, near the junction of Trafalgar Square and Whitehall) are approximately 51°30'29?N, 00°07'29?W. Trafalgar Square has also become a point for celebrations and protests.
StatusWithin London, both the City of London and the City of Westminster have City status and both the City of London and the remainder of Greater London are the ceremonial counties. The current area of Greater London was historically part of the counties of Middlesex, Kent, Surrey, Essex and Hertfordshire. Unlike most capital cities, London's status as the capital of the UK has never been granted or confirmed officially—by statute or in written form. Westport Street. Its position as the capital has formed through constitutional convention, making its position as de facto capital a part of the UK's unwritten constitution. The capital of England was moved to London from Winchester as the Palace of Westminster developed in the 12th and 13th centuries to become the permanent location of the royal court, and thus the political capital of the nation.
According to 2005 estimates, 69.6% of these seven and a half million people are classed as white, including White British (58.2%), White Irish (2.6%) and "Other White" (8.8%), the majority of whom are other Europeans. 12.9% of people are of South Asian descent, including Indian, Pakistani, Bangladeshi and "Other Asian" (mostly Sri Lankan, Arab and other Southern Asian ethnicities). 10.8% of people are Black (around 5.5% are Black African, 4.4% as Black Caribbean, 0.8% as "Other Black"). 3.4% are of mixed race; 1.4% are Chinese; and 1.9% of people belong to another ethnic group (mostly Latin American - an estimated 60,000 Brazilians reside in London, Filipino, Japanese, Korean, Vietnamese and other East Asians). 21.8% of inhabitants were born outside the European Union. The Irish born, fromboth the Republic of Ireland and Northern Ireland, number approximately 250,000 and are the largest group born. Westport Street. London's largest industry remains finance, and its financial exports make it a large contributor to the UK's balance of payments. Over 300 000 people are employed in financial services in London. London has over 480 overseas banks, more than any other city in the world. More funds are invested in the City of London than in the next top ten European cities combined, and more international telephone calls are made to and from London than any other point on the planet. The City is the largest financial and business centre in Europe and, has begun to once more overtake New York City, partly due to strict accounting following the Sarbanes-Oxley Act and a tightening of market regulations in the United States. Due to New York's tightening of market regulations, London stock exchanges had approximately 20% more initial public offerings in 2006.London is home to banks, brokers, insurers and legal and accounting firms. A second, smaller financial district is developing at Canary Wharf to the east of the City which includes the global headquarters of HSBC, Reuters, Barclays and the Magic Circle, which includes Clifford Chance, the largest law firm in the world. London handled 31% of global currency transactions in 2005—an average daily turnover of US$753 billion—with more US dollars traded in London than New York, and more euros traded than in every other city in Europe combined. Westport Street.More than half of the UK's top 100 listed companies (the FTSE 100) and over 100 of Europe's 500 largest companies are headquartered in central London. Over 70% of the FTSE 100 are located within London's metropolitan area, and 75% of Fortune 500 companies have offices in London. Along with professional services, media companies are concentrated in London (see Media in London) and the media distribution industry is London's second most competitive sector (after central banking, the most competitive sector). The BBC is a key employer, while other broadcasters also have headquarters around the city. Many national newspapers are edited in London, having traditionally been associated with Fleet Street in the City, they are now primarily based around Canary Wharf. Soho is the centre of London's post-production industry.



PLEASE CONTACT FOR FURTHER DETAILS

Return from Westport Street to Property for Sale